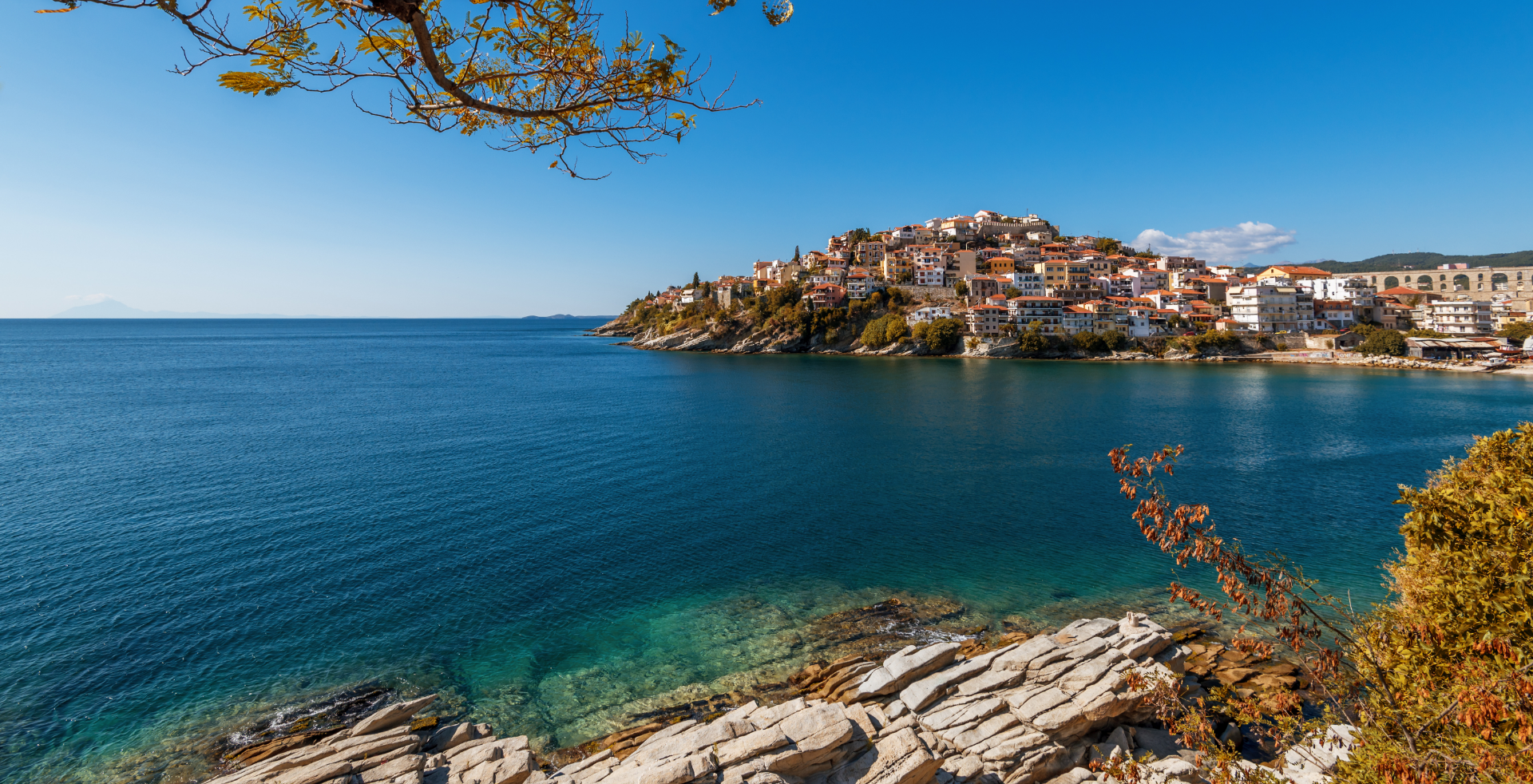 Eastern Macedonia and Thrace
​Ανατολικής Μακεδονίας και Θράκης
Main challenges
Κύριες προκλήσεις
Floods
Soil erosion
Πλημμύρες
Διάβρωση του εδάφους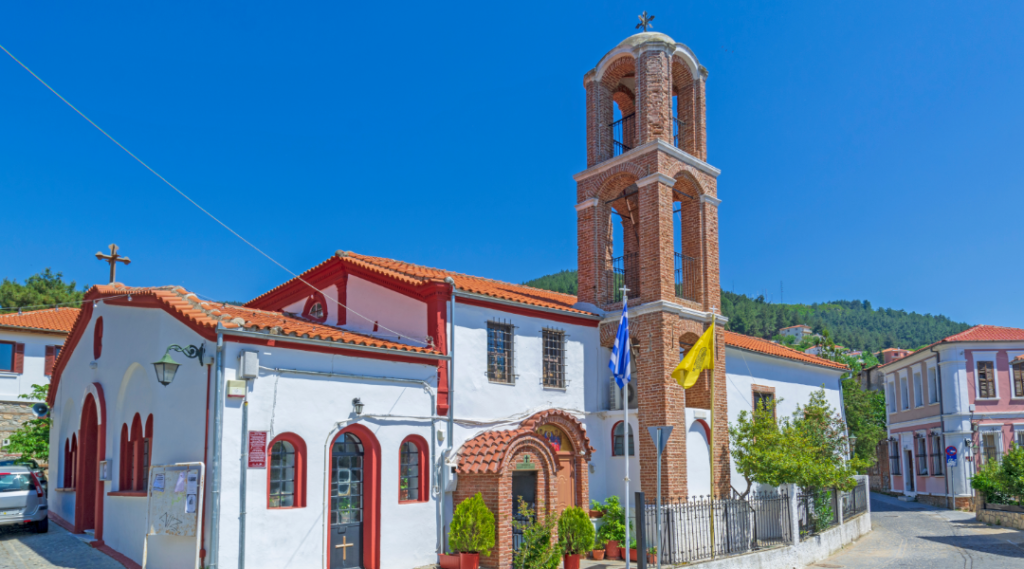 Xanthi, Eastern Macedonia and Thrace, Greece
Ξάνθη, Ανατολική Μακεδονία και Θράκη, Ελλάδα
Eastern Macedonia and Thrace is one of the 13 administrative regions of Greece. The region is home to unique expanses of total wilderness but also has agricultural traditions, such as cultivating tobacco, wheat and sunflowers, that continue to this day. Eastern Macedonia and Thrace has several Natura 2000 sites vital to the European environment. However, the region is subject to increasing climate change-related problems and disasters that are affecting these significant forest and aquatic ecosystems, as well as its urban areas.
Η Ανατολική Μακεδονία και Θράκη είναι μία από τις 13 διοικητικές περιφέρειες της Ελλάδας. Η περιοχή φιλοξενεί μοναδικές εκτάσεις συνολικής άγριας φύσης, αλλά έχει επίσης γεωργικές παραδόσεις, όπως η καλλιέργεια καπνού, σιταριού και ηλίανθων, που συνεχίζονται μέχρι σήμερα. Η Ανατολική Μακεδονία και Θράκη έχει πολλές τοποθεσίες Natura 2000 ζωτικής σημασίας για το ευρωπαϊκό περιβάλλον. Ωστόσο, η περιοχή υπόκειται σε αυξανόμενα προβλήματα και καταστροφές που σχετίζονται με την κλιματική αλλαγή που επηρεάζουν αυτά τα σημαντικά δασικά και υδάτινα οικοσυστήματα, καθώς και τις αστικές περιοχές της.
The Greek region is one of the poorest in the EU, according to European Regional Development Fund (ERDF) criteria. The region is less experienced than Southwest Finland and Normandy – its twinning regions – in terms of climate change adaptation. It has not yet been able to establish a coherent road map, which will include specific actions and work to minimize flood impacts, surface water pollution and irrigation water scarcity.
Η ελληνική περιφέρεια είναι μια από τις φτωχότερες στην ΕΕ, σύμφωνα με τα κριτήρια του Ευρωπαϊκού Ταμείου Περιφερειακής Ανάπτυξης (ΕΤΠΑ). Η περιοχή είναι λιγότερο έμπειρη από τη Νοτιοδυτική Φινλανδία και τη Νορμανδία –τις αδελφοποιημένες περιοχές της– όσον αφορά την προσαρμογή στην κλιματική αλλαγή. Δεν έχει καταφέρει ακόμη να καταρτίσει έναν συνεκτικό οδικό χάρτη, ο οποίος θα περιλαμβάνει συγκεκριμένες δράσεις και εργασίες για την ελαχιστοποίηση των επιπτώσεων από πλημμύρες, της ρύπανσης των επιφανειακών υδάτων και της λειψυδρίας άρδευσης.
Main challenge
Κύρια Πρόκληση
Panagia, Thassos, Greece. Photo: Envato
Παναγία, Θάσος, Ελλάδα. Φωτογραφία: Envato
Eastern Macedonia and Thrace faces challenges related to water such as floods, water pollution and water scarcity. The large number of rivers with torrential flow, which pass through cities and villages, along with anthropogenic pressures in these rivers (like wastewater treatment plants, industrial areas, livestock farms, olive mills and agricultural activity) have increased river vulnerability. In recent years, several severe floods affected the Evros, Rodopi and Xanthi prefectures, causing a series of economic losses in residential and agricultural areas.
Η Ανατολική Μακεδονία και η Θράκη αντιμετωπίζει προκλήσεις που σχετίζονται με το νερό, όπως πλημμύρες, ρύπανση και λειψυδρία. Ο μεγάλος αριθμός ποταμών με χειμαρρώδη ροή, που διέρχονται από πόλεις και χωριά, μαζί με τις ανθρωπογενείς πιέσεις σε αυτούς τους ποταμούς (όπως εγκαταστάσεις επεξεργασίας λυμάτων, βιομηχανικές περιοχές, κτηνοτροφικές εκμεταλλεύσεις, ελαιοτριβεία και γεωργική δραστηριότητα) έχουν αυξήσει την ευπάθεια των ποταμών. Τα τελευταία χρόνια, αρκετές σφοδρές πλημμύρες έπληξαν τους νομούς Έβρου, Ροδόπης και Ξάνθης, προκαλώντας σειρά οικονομικών απωλειών σε κατοικημένες και αγροτικές περιοχές.
The main rivers in the region – Kosynthos and Laspias – are subjected to water quality pollution, which is a shared problem with Southwest Finland. In particular, the Laspias river is subject to nitrate pollution and is a recipient of organic load (from landfills, bio-waste treatment plants and other industries). The Greek region also shares similar geographic features with Southwest Finland, such as unique coastlines and islands.
Οι κύριοι ποταμοί της περιοχής – ο Κόσυνθος και ο Λασπιάς – υπόκεινται σε ρύπανση της ποιότητας των υδάτων, η οποία αποτελεί κοινό πρόβλημα με τη Νοτιοδυτική Φινλανδία. Ειδικότερα, ο ποταμός Λασπιάς υπόκειται σε νιτρορύπανση και είναι αποδέκτης οργανικού φορτίου (από χώρους υγειονομικής ταφής, μονάδες επεξεργασίας βιολογικών αποβλήτων και άλλες βιομηχανίες). Η ελληνική περιφέρεια μοιράζεται επίσης παρόμοια γεωγραφικά χαρακτηριστικά με τη Νοτιοδυτική Φινλανδία, όπως μοναδικές ακτές και νησιά.
Adaptation pathway
Διαδρομή προσαρμογής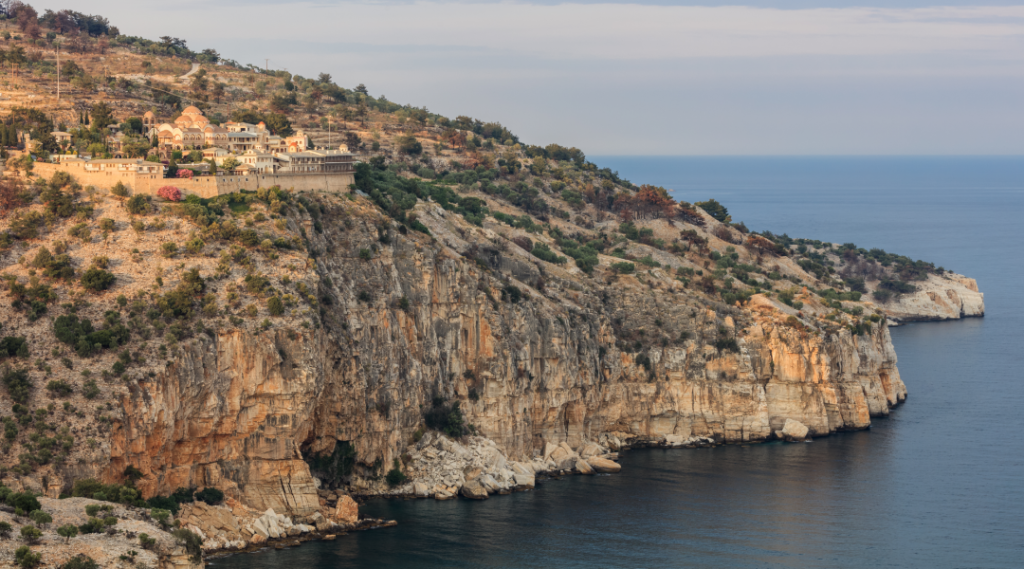 Thasos island, Greece. Photo by: porojnicu
Θάσος, Ελλάδα. Φωτογραφία: porojnicu
The RESIST project activities in Eastern Macedonia and Thrace will focus on implementing the know-how from Southwest Finland and demonstrate outputs in its own territory, focusing on the basins of the Laspias and Kosynthos torrents. The region will work following a nature-based solutions (NBS) approach to climate change adaptation. The Greek region will develop a road map for using NBS in flood retention, water quality pollution protection and irrigation water scarcity management. The innovative solutions implemented within the RESIST project in the region will aim to increase stakeholder engagement, collect data on the costs-benefits of NBS for water retention and develop an application for flood warning systems and water quality status.
Οι δραστηριότητες του έργου RESIST στην Ανατολική Μακεδονία και Θράκη θα επικεντρωθούν στην εφαρμογή της τεχνογνωσίας από τη Νοτιοδυτική Φινλανδία και θα επιδείξουν αποτελέσματα στη δική της επικράτεια, εστιάζοντας στις λεκάνες των χειμάρρων Λασπίας και Κόσυνθου. Η περιοχή θα εργαστεί ακολουθώντας μια προσέγγιση λύσεων που βασίζονται στη φύση (NBS) για την προσαρμογή στην κλιματική αλλαγή. Η ελληνική περιφέρεια θα αναπτύξει έναν οδικό χάρτη για τη χρήση του NBS για τη συγκράτηση των πλημμυρών, την προστασία της ποιότητας των υδάτων από τη ρύπανση και τη διαχείριση της λειψυδρίας του αρδευτικού νερού. Οι καινοτόμες λύσεις που θα εφαρμοστούν στο πλαίσιο του έργου RESIST στην περιοχή θα στοχεύουν στην αύξηση της συμμετοχής των ενδιαφερομένων, στη συλλογή δεδομένων σχετικά με το κόστος-οφέλη της NBS για τη διατήρηση του νερού και στην ανάπτυξη μιας εφαρμογής για συστήματα προειδοποίησης πλημμύρας και την κατάσταση της ποιότητας του νερού.
Learn more about Eastern Macedonia and Thrace's solutions
Μάθετε περισσότερα για τις λύσεις της Ανατολικής Μακεδονίας και Θράκης
Media
Μεσο Μαζικής Ενημέρωσης